Our happiness team is always here to assist.
Common purchase queries answered
At this time we ONLY accept Interac email transfer payments. For instructions on how to send a secure Interac payment please watch the video tutorial found here:
P.S.: We do not accept PayPal unfortunately or credit cards at the moment.
Click Here to see instructions.
For whatever reason Tangerine Bank seems to have a different payment process then the rest of the banks we've received payments from. The message that Tangerine sends to the receiver (us) is that the payment will take 2 to 3 days to process (see attached screenshot):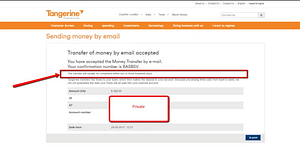 *For that reason please allow 2-3 days until we receive payment when sending email money transfer from Tangerine bank.
Multiple Sclerosis
Spinal Cord Injury/Disease
Cancer
HIV/AIDS
Severe Arthritis
Epilepsy
ADD/ADHD
Eating Disorders
Arthritis
Auto Accident(s)
Alzheimer's Disease
Brain Injury
Chronic Pain
Chronic Nausea
Colitis
Crohn's Disease
Kidney Failure/Dialysis
Fibromyalgia
Irritable Bowl Syndrome
Migraines
Muscular Dystrophy
Muscle Spasms
Parkinson's Disease
Sleep Disorders
Anxiety
Post Traumatic Stress Disorder
Hepatitis C
Gastrointestinal Disorders
Back & Neck Problems
Please be advised that due to circumstances that are out of our control, such as summer heat, humidity and even time. There is always a risk that the shatter you ordered could turn to wax or budder by the time you receive it.
Unfortunately, shatter turning to wax budder is not uncommon when exposed to heat but it does not make your shatter any less safe or any less potent in any way whatsoever. In fact, the terpenes and aromatics will be more present if this happens and the flavor will actually be increased.
We do not offer any reimbursement or refunds if your shatter turns to budder or wax.
It has recently come to our attention that more and more websites are starting pop up that completely lift our images and plagiarize our copy and website in an effort to trick our customers and scam people who are actually trying to find our website. Please ensure that you are in fact on our website and verify the URL in your address bar before purchasing anything and when browsing the internet.